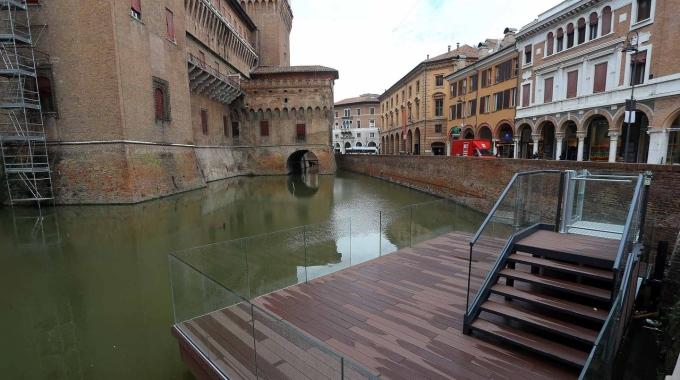 Open museum is the project, now actually realized with European funds aimed to promote tourism, which will enable citizens and visitors of the Este Castle to appreciate the beauty from an alternative perspective. Commissioned the work the Province of Ferrara, whose manager Unique procedure is the Arch. Moreno Po interviewed by Resto del Carlino about it.
Built in record time, the floating platform is composed of two metal frames assembled and anchored to the walls of the castle moat. Feature a lift, it will also allow disabled access to the boat made available by the Province.
The materials and finishes chosen are of the highest quality and able to resist to the external environment, first of all the wood composite Wpc Novowood, with which it was realized the paving and the coating of the scale. The use of the wood composite material, will allow the Public Administration can overthrow of maintenance costs, guaranteeing at the same time the aesthetics also in consideration of the context in which the work is inserted.
Published on 14 November 2014