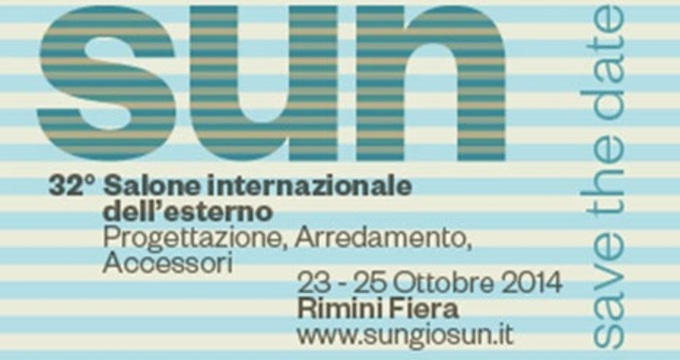 We will attend, for the 4th year, at the fair SUN2014, an exhibition full of projects and products for outdoor living, Pav. A1 stand 001/002
Its different sections comprehend the entire outdoor world: from furniture and garden accessories and outdoor products for the beach, from mobile homes and equipment for camping and tourist villages, from the public and private green to urban furniture.
Exhibitions, contests, training seminars and conferences make SUN one of the big event for all industry players.
SUN Mare
The most comprehensive and innovative part of the exhibition is dedicated to the seaside with furniture, equipment, facilities for bathing and beach in general.
Thanks to its position at the end of October it is the ideal showcase to present a preview of what's new for the next season, to make the point about the market trends and regulatory information, to participate in conferences of professional development.
Salon du camping et du village
6th edition of the event organized in collaboration with the Association of the Camping World. On display: mobile homes, bungalows, equipment and accessories for camping and tourist villages. Target visitors: owners, managers and operators of campsites and holiday villages. To complete the section, a training program and update aims to improve the business and the incoming of foreign clients for the owners and operators of the sector.
Gio'Sun
An area dedicated to the game for outdoor, parks, beaches, public or private sites.
SUN Home and Garden
Italian and foreign companies are previewing garden furniture, accessories, equipment. The exhibitors are turning to specialized trade (retail, wholesale, international buyers, chains). The sector is integrated with an area devoted to horticulture, with the presence of the leading manufacturers of plants, designed for landscapers and designers, garden point and specialized retail.
SUN City: urban furniture, paving, lighting for outside public areas.
Data of the last edition
23,832 workers equal to + 1.8% compared to 2012, more than 100 foreign delegations from 9 different countries, 127 accredited journalists (+ 40%), 8 pavilions and 60 thousand square meters occupied.
Link to the official website
Published on 09 September 2014