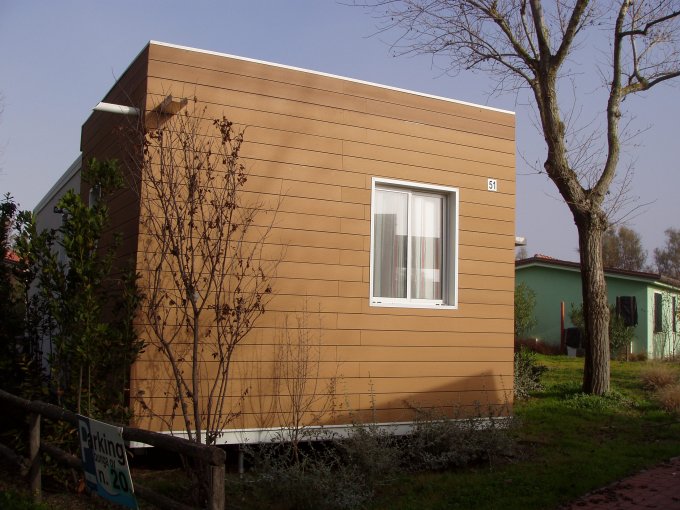 The facade cladding of ventilated born with the aim to answer, with high quality aesthetic characteristics, the protection of a building against the combined action of rain and wind by neutralizing the effects of pouring water on the wall, keeping dry the wall structure .
This coating system, because of its construction characteristics that determine an air chamber between the wall and coating, is characterized by a "chimney effect" which activates efficient natural ventilation, providing significant benefits of heat and moisture removal ensuring a surplus living comfort.
The ventilated facade NOVOWOOD, covered with slats in WPC, ensures aesthetic / performance enhancement higher than traditional building materials, in line with today's architectural trends that tend to draw more and more 'frequently colors and materials found in nature.
The design solution adopted by Novowood, offers multiple advantages compared to a traditional solution, the following are a few examples are listed:

 elimination of the risks of cracking of the coating by improving the healthiness due to the constant passage of rising air that avoids the moistening of the wall and to protection against external influences such as rain and frost from direct contact;

 elimination of the risk of detachment from the walls to disconnect, because mechanically fastened to substructures knobbly directly to the wall to be coated or to specific fixtures arranged upstream of the project;

 protection of the wall structure by the direct action of atmospheric agents;

 elimination of thermal bridges resulting in energy savings due to the reduced heat loss;

 elimination of surface condensation (the presence of an air gap facilitates evacuation of water stream from the interior and promotes the removal of possible moisture);

 ease of installation regardless of the weather conditions, because climatic factors do not affect the efficiency of the anchors;
For more information on Novowood wall cladding systems, visit the website or Contact us without obligation SECTION
Published on 19 February 2016